What is Business Administration?
Business administration oversees the general operations of an organization or department. This may include teams support and supervision, problem solving, developing and implementing plans, and meeting goals.
Competences to be acquired
Students learn to perform accounting functions, record and verify transactions, prepare payroll, monitor inventories, prepare financial statements, and analyze financial information. Emphasis is placed on both manual and computer-based accounting programs to learn accounting data processing.
Why study Business Administration?
On-the-job training and instruction is provided to meet the challenges of this rewarding position.
What do I need to study Business Administration?
To study for a Associate in Business Administration, you need to have finished high school.
In companies in the areas of administration and sales, as a business advisor, financial analyst, market research analyst, human resources specialist, marketing administrator, logistics manager, entrepreneurship manager, etc.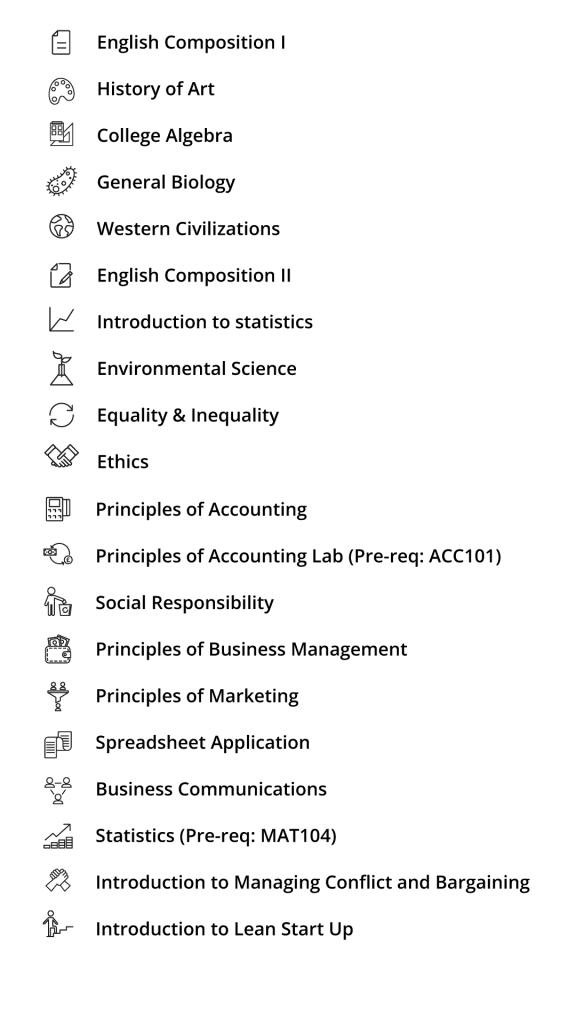 English Composition I
History of Art
College Algebra
General Biology
Western Civilizations
English Composition II
Introduction to statistics
Environmental Science
Equality & Inequality
Ethics
Principles of Accounting
Principles of Accounting Lab
Social Responsibility
Principles of Business Management
Principles of Marketing
Spreadsheet Application
Business Communications
Statistics
Introduction to Managing Conflict and Bargaining
Introduction to Lean Start Up
Experience and recommendations
of the students