ADDITIONAL BENEFITS FOR OUR STUDENTS:

CERTIFICATE PROGRAMS:
All our study programs provide Certificates that you will receive once you complete specific courses in your curriculum.
These courses comprise a set of knowledge that will help you develop a specific skill, which will be recognized by MBTU through a Certificate that can be applied in the work field while you continue your study program.
The Certificates will be delivered digitally once you finish the courses, with this you will be able to consolidate and validate your new skills.
CERTIFICATES FOR ASSOCIATE PROGRAMS:
Business Administration: Certificate in Business Management
Technology in Educational Services: Certificate in Application of Educational Technologies
Business Entrepreneurship: Certificate in Entrepreneurship, Innovation and Competitiveness
CERTIFICATES FOR BACHELOR PROGRAMS:
Marketing and Sales: Certificate in Digital Media.
Business Administration with Minor in Management Information Systems: Certificate in Information Systems in Organizations.
Health Services Administration: Certificate in Health Management Services.
CERTIFICATES FOR MASTER'S PROGRAMS:
Business Administration: Advanced Certificate in Global Business.
Business Administration in Human Resources Management: Certificate in Leadership Management and Human Talent.
Education with concentration in Digital Technologies: Certificate in Digital Technologies in Education.
EMPLOYMENT PLACEMENT:
At MBTU, we are interested in our students being able to access more and better job opportunities through the preparation of efficient, ethical, innovative, and socially responsible professionals.
Considering how competitive the labor market is, MBTU maintains alliances and agreements with companies that promote job placement and offer jobs for MBTU students.
We will provide you with advice and guidance, in order to ensure that your profile is considered in various job offers, through tools that will help you develop the potential and capabilities that organizations require.
ENTREPRENEURSHIP COURSES:
MBTU seeks to promote your entrepreneurial and innovative spirit. Promoting entrepreneurship is not limited to just teaching how to create a business, that is why we will provide you with tools that allow you to develop your ideas in this highly competitive world.
And that is why we will provide you with the tools with which you can develop your ideas in this highly competitive world.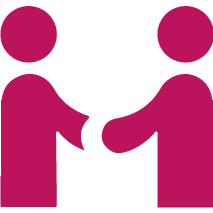 This Department ensures that student services are available to all students; Student Support Services cover areas related to career development, personal skills, academic counseling, employment assistance and study search at other levels.
The support services provided by the SSS program include academic tutoring, financial aid advisement, academic advisement, grade and academic progress monitoring, supplemental instruction, career/major exploration, workshop provision, leadership development, cultural activities, transfer assistance, and priority registration. Supplemental Grant Aid is also available to students who meet specific criteria.
Student services require several functions that respond to the academic and service needs of students, graduates, teachers, media, and methodologies that cover areas related to student services, information dissemination, training and professional development of students and teachers.
This department offers statistics of the services offered to the student, employability for graduates, instruction update, follow-up of students, courses and teachers, being responsible for accompanying the academy in the provision of quality professional training, ensuring the relevance of the offered programs.
Our technological model for online education provides access to scientific databases, virtual libraries and the portal of scientific journals edited by the University as sources of consultation, creativity, and innovation in the generation of formative research processes, of students, teachers, authors, and tutors.
MBTU has its own data center to provide the services required for the development of academic and research activities. Our library and databases with more than 3,000 bibliographic resources allow access to different areas of knowledge (business, science and technology, humanities, social sciences, etc.), and articles on current academic topics.
Certificates.
Virtual library.
Labor market.
Entrepreneurship courses.
Student counseling.